Thanks for an Awesome Run!   Happy Holidays.

Ingenious New Comedy for the Christmas Season.
Dec 4th -20th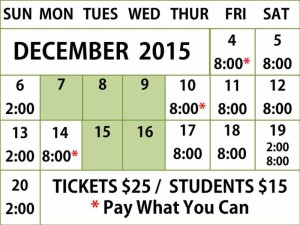 Winner of TWO Seattle Times Footlight Awards!
Christmas Eve, 1593. Marlowe was dead to begin with.
Between writer's block, a plague-ridden London and the theatre-hating Puritans, William Shakespeare faces the end of his career.  Then a ghostly visit from the late Christopher Marlowe and a last minute invitation to perform for Queen Elizabeth give the Bard a flicker of hope.  But the not-so-virgin queen has some saucy plans of her own.  A dash of Richard III, a dose of A Christmas Carol and a dollop of Twelfth Night add up to a real Holiday of Errors!