2017 Season Announcement: AMPLIFY! Raising Women's Voices
AMPLIFY! Raising Women's Voices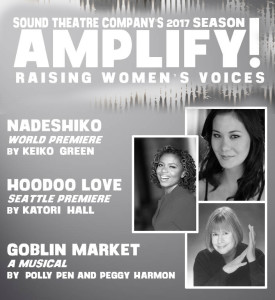 Seattle's Hottest Theatre Company announces their 2017
line-up of all Women writers and directors
WHO:  Sound Theatre Company
WHAT:  2017 Season AMPLIFY! Raising Women's Voices
WHEN: April 13 – August 27 2017
WHERE:  Seattle Center House Theatre
WHY:  Because Seattle demands to see more female artists in theatre
November 30, 2017 Seattle, WA – Coming off their second win for Outstanding Theatre of The Year from the Gregory Awards, Sound Theatre Company announces their most compelling and relevant season to date. Sound's 11th season takes advantage of its recent successes and distinctions to help amplify female artists in the theatre and emphasize the roles of emerging female artists of color. Each play in the 2017 season is written by women and will be staged by female directors.
April 13 – May 7
Nadeshiko by Keiko Green
Directed by Kaytlin McIntyre
Presented in Collaboration with Seattle's Umbrella Project
– A world premiere from one of Seattle's preeminent theatre artists, Keiko Green, Nadeshiko tells the stories of two generations of Asian women who are reclaiming their power from idealized perceptions of beauty.
July 13 – July 30
Hoodoo Love by Katori Hall
Director T.B.A.
Presented in Collaboration with the Hansberry Project
– Seattle premiere of sensational young playwright Katori Hall's (The Mountaintop, Hurt Village) first play about Blues music and Black life in her native Memphis Tennessee during the 1930s.
August 10 – 27
Goblin Market by Polly Pen, Peggy Harmon, and Christina Rosetti
Directed by Teresa Thuman
– A dark and atmospheric musical about two grown sisters in the Victorian age who revisit their sexually charged childhood fantasies in an imaginary world of seductive goblins.
Amplification is a method used by female staffers in Obama's White House to ensure women's voices and ideas are heard and recognized. When a woman makes a key point, other women in the administration repeat it, giving credit to its author. Sound Theatre Company strives to use this method as a inspiration for its future seasons.
"I have been looking to dedicate the 2017 to plays by women for sometime now," says Artistic Director Teresa Thuman, "and the current events have only affirmed that this was the right direction for our next season.  Last month, I was fortunate to attend the Statera Foundation Conference for Gender Parity in the Theatre and I was thrilled by the thoughtful work being done by theatres across the nation to promote and 'amplify' their women artists.  We are joining that chorus of voices."
In addition to staging work by female playwrights and hiring a team of all-female directors, Sound Theatre is upping its commitment to Seattle's working artists by doubling pay to actors contracted for their upcoming season.