SOUND THEATRE COMPANY
interview
HOODOO LOVE
Malika Oyetimein
SOUND THEATRE COMPANY + DIRECTOR MALIKA OYETIMEIN TALK ABOUT THE BLUES, RELATIONSHIPS, AND THE WOMEN OF HOODOO LOVE.
by Jose Abaoag Actor,  SOUND THEATRE COMPANY – PR manager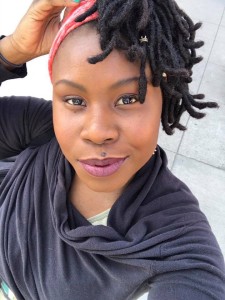 Back in May 2017 while director, Malika Oyetimein  (pronounced:  oh • YAY • tih •  myn) was in the midst of directing BARBECUE for the Intiman Theatre Festival, I sat down with Malika in an outdoor patio of a Caribbean restaurant in the Central District  to get her thoughts on Hoodoo Love – the second play of Sound Theatre Company's 11th season.
JA: So what is the play about and what do you want the audience to leave with?

MO: This play is about the tenacity and perseverance of black women. This play is about survival. Its 2017 and America is abuzz with a new word : resilience. Everywhere you look you see the word resilience because for  about a year things have been slightly uncomfortable for mass amounts of white people in America. Every time I hear it it's kind of  funny to me because it's a understanding from birth as a black person in America. 'Be resilient or die'. My work is strongly featuring Black Women leads this season and the plays are set in varying time periods….some as far back as the 1900's and the major themes  always come back to resilience. All of these plays featuring Black Female leads come back to resilience. So my take away is this : Black  Women are the definition of resilience. To be a Black Woman in America is to be resilient.

JA: What is it about Katori Hall's writing that illuminates that?

MO: This play is centered on a black woman in the 1930s. It is a completely different era that I am living in currently, but I see myself in her writing. I see my mother in her writing, my sister, my best friends, and the type of camaraderie the lead character, protagonist , Toulou has with Candylady – who is a mother figure of hers – reminds me of me and my mother, of me and my grandmother. So the timelessness in Katori Hall's writing is what I think is especially compelling.
JA: Hoodoo Love is often billed as a play with music. But we know that it's not a musical. How does rhythm and the music, particularly the Blues Music, inform you or the actors to tell this story?

MO: The blues is the heartbeat of this play. So the rhythm of the play is just like the blues. It can be upbeat and it can have a dancing type of rhythm, or it can be the most heartbreaking piece of music that one can experience. And like the blues, the play takes us on a journey – that full spectrum that blues can be. The music is gonna stir you…Because the blues stirs the heart.
JA: In the relationship between the blues man character,  ACE OF SPADES and the protagonist, TOULOU- TOULOU is aspiring to sing and do music as well but then ACE essentially shuts her down. Can you speak on what that reflects in Black female and male relationships?
MO: I think that's just relationships.
JA: …period.
MO: Period. The relationship themes that come up in the play are universal. This play highlights some very complicated issues and they stem from the societal mindset that we all share. This play is set in an era where men are taught that "they can be anything and do anything" and women are "taught to attach themselves to a man so they can be safe and provided for" . In Hoodoo Love the man is Ace of Spades and the woman is Toulou. Ace just has this confidence in him inherently and Toulou has been told over and over again that she's nothing- especially if she doesn't have a man.
JA: Eva Abram is cast as CANDYLADY, the other female character in the play. What do you think is that character's reason for being in HOODOO LOVE ?
MO: She speaks to wisdom. She speaks to a timelessness. She speaks to a black woman being multifaceted. She is described as being "older than dirt." She is supposed to have been around since slavery days and now it's the 1930s. So for Toulou she gives her a mother figure, a grandmother figure. WISDOM.
JA: Is that always a sweet and nurturing ability?

MO: No, but all love isn't soft love. Some love is tough love.
JA: Earlier before we sat down we were talking about mixed symbols, body image, who gets " represented and who does not" and in 2017,  it's difficult to navigate all that for a lot of women. So, if you were say, CANDYLADY from the play- what advice would you give to, for example, young women, a college student say…how should they find their way in the world right now?
MO: " Keep your head up and find your voice." Because as a woman, you're always going to be doing the "wrong thing". Someone is always going to be telling you that "you're not enough". Someone is always going to be telling you "what to think, what to do, how to look, how to dress"  and that's never gonna' change. But if you can keep your head up above all that bullsh*t and you can just consistently try to find your voice and find your people, and find the things you're passionate about then…then you're moving forward. Right? But If you get down and mired in "bullsh*t" then you're gonna' drown. So I would just say to them: "Keep your head up and keep dreaming and keep searching, keep exploring, keep challenging and keep fighting.  And that's Resilience. I learned that from my mother."