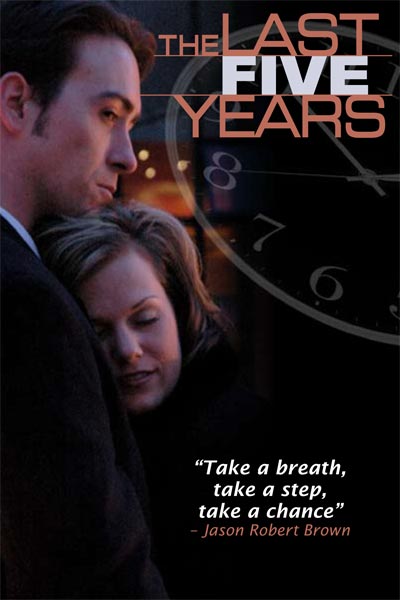 Written and Composed by JASON ROBERT BROWN
February 26, 27, 28, and March 1, 2009
7:30 pm
Bainbridge Performing Arts
200 Madison Avenue North
Bainbridge Island, WA 98110 (Just blocks from the Ferry Terminal)
***ONE WEEKEND ONLY!***
Tickets $20
www.brownpapertickets.com (Please do not contact BPA Box Office)
SOUND THEATRE COMPANY presents THE LAST FIVE YEARS, Tony-Award winner Jason Robert Brown's poignant and smart contemporary musical of five years in the relationship of an ambitious young writer, Jamie, and his struggling actress wife, Cathy. Funny, uplifting, and told in a unique non-linear form, this show captures some of the most heartbreaking and universally felt moments of modern romance.
"[Jason Robert Brown is] a leading member of a new generation of composers who embody high hopes for the American musical." –New York Times
"The enormously talented Jason Robert Brown is singularly adept at creating suites of gorgeous numbers in a variety of musical idioms." –Variety
"A bracing music theatre piece…brimming with persistent melodies, throughout lyrics and a heartfelt, compelling story" -Associated Press
"Unpredictably heartfelt insights, energized by a seductive, rhythmic drive" – Newsday
"Here is a real modern musical"- New York Post
Featuring Adam Somers and Jessica Low
Presale tickets only available online through www.brownpapertickets.com.  Any tickets available to be purchased at the door must be paid by cash or check.
THE LAST FIVE YEARS is presented through special arrangement with Music Theatre International (MTI)
Originally Produced for the New York stage byArielle Tepper and Marty Bell
Originally Produced by Northlight Theatre Chicago, IL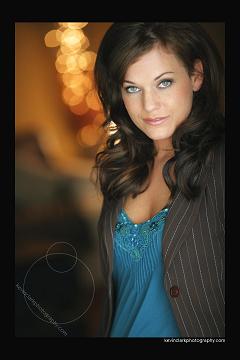 Jessica Low graduated from the University of Washington in 2003, with a BA in Drama and has been working regionally as a performer, choreographer, director and youth educator ever since. Performing credits include: Tommy (Swing), The Beauty and the Beast (swing), Saint Heaven (understudy: Maggie) and Time of Innocence (Diane/Kim) at Village Theatre, A Chorus Line (Bebe) and Children of Eden (Eve/Mama Noah) at Capital Playhouse, Once On This Island (TiMoune) at ArtsWest, A Chorus Line (Maggie) at Coeur d'Alene Summer Theatre, Jekyll and Hyde (Lucy) and Little Shop of Horrors (Chiffon) at Bainbridge Performing Arts, Nicholas Nickleby (Madeline) and A Christmas Carol (Mrs. Cratchit) at Centerstage!, My Way (Lead Vocalist) and Swing! (Lead Vocalist) at Civic Light Opera, and The World Below (Miss Tulla) with the Renegade Opera Company. Jessica also has numerous choreographic, directing and teaching credits with Village Kidstage, BPA, CLO, and Artswest Youth Program among others.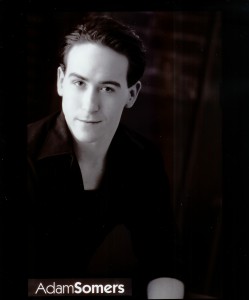 A Kitsap County native, Adam Somers has been a professional actor, singer, dancer in the Seattle Area for the last ten years.  Audiences may recognize Adam from past productions:  Wizard of Oz, Hair, A Chorus Line (Bobby cover), and Gentlemen Prefer Blondes for the 5th Avenue Theatre and Grease (Sonny), West Side Story (Arab), Brigadoon (Harry Beaton), Babes In Arms (Bobby), Joseph…Dreamcoat (Judah), Oklahoma! (Slim), Cats (Tumblebrutus/McCavity) and Beauty and the Beast (Ensemble) for Village Theatre.  Other Theaters you might have seen Adam perform for are Bainbridge Performing Arts, CSTOCK, Tacoma Musical Playhouse, Capital Playhouse, Seattle Children's Theatre, Empty Space, and Second Story Rep.  Adam recently returned from a year in Los Angeles where he made several appearances on ABC's General Hospital and Night Shift.
Daryl Spadaccini (Music Director) is a composer, arranger and musical director with extensive credits and Los Angeles and the Puget Sound.In Los Angeles he worked with such luminaries as Henry Mancini, David Shire, Nick Perito, Nelson Riddle, Alan Bergman and Dick Grove. He accompanied several celebrities such as Barbi Benton, Cyd Charisse, Kathryn Grayson, Shelly Berman, Bill Conrad, Connie Towers and Martha Raye, and appeared on the Tonight Show with Johnny Carson. In Seattle, Daryl has worked with Seattle Children's Theatre, 5th Avenue Theatre, Intiman, Empty Space and Seattle Shakespeare. He is a familiar face with Kitsap Opera, BCT, BPA, PAGSK, CSTOCK, Bremerton Symphony, West Sound Arts Council, and the Admiral Theatre.