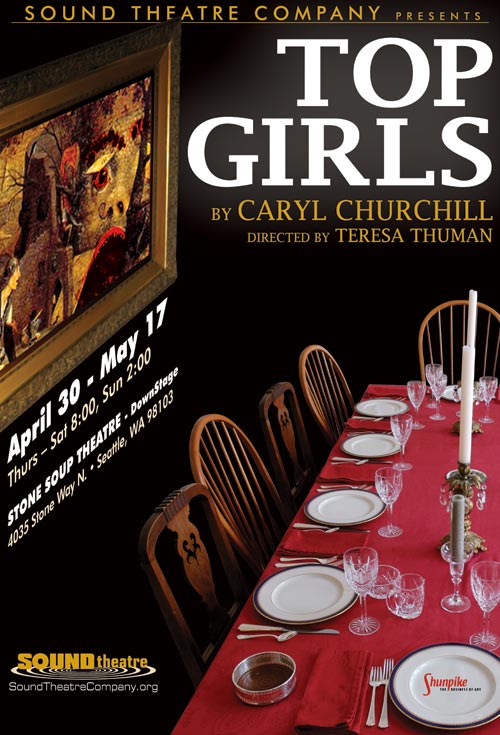 Don't miss Caryl Churchill's groundbreaking portrayal of women and power in the workplace.  Marlene celebrates her recent promotion by dining with prominent women from history and myth.Her own real story of success, however, harbors secrets and bitter sacrifices.
April 30 – May 17 Thursday, Friday, Saturday 8:00, Sunday 2:00
Stone Soup Theatre – Downstage
4035 Stone Way N.
Seattle, WA 98103   – Directions and Map
Tickets $15 General/$12 Students/Seniors
Presale tickets available to all performances through BrownPaperTickets.com.
All tickets purchased at the door must be with cash or check.
Thursday and Sunday performances are "Pay What You Can" at the door and include Talk-Back sessions with the artists.
NOTE: "Pay What You Can" prices are only available at the door with cash or check, and seating is limited.
PATRONS WITH DISABILITIES Please contact Teresa Thuman at 206-856-5520 or tthuman@yahoo.com to reserve wheelchair seating or discuss any concerns.
WITH Page Byers, Kate Kraay, Courtney Bohl, Carolyn Marie Monroe, Rosalynn Le, Dayo Anderson, Chris Hille and Lee Ann Hittenberger. Directed by Teresa Thuman, Assisted by Corey McDaniel. Designed by Deborah Sorensen, Laura Gay and Ciara Rose Griffin.
For more information please contact Teresa Thuman at tthuman@yahoo.com.