Women's Leadership In Resident Theatres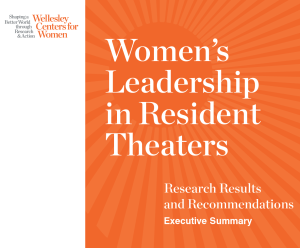 The Wellsley Centers for Women (Authors Sumru Erkut,  Ineke Ceder)  studied the roles of women, and hiring practices at Member Theatres of the League of Resident Theatres in 2015.  This paper summarizes their research project and conclusions. 
Please read this exceptional research study about the dearth of women and people of color in leadership positions in the American regional theatre. I was fortunate enough to attend a presentation of the preliminary findings by Sumru Erkut, one of the authors. This was part of a weekend conference on gender parity in the theatre put on by the Statera Foundation, and was held at the Denver Center of the Performing Arts in October, 2016.
I highly recommend reading at least the Executive Summary, if not the entire report. We can do better. We MUST do better.
Please contact me if you would be interested in attending a convening to discuss these findings. Email me at Teresa@soundtheatrecompany.org and I will let you know if we can set some plans.
And don't miss our 2017 Season of plays "Amplify:Raising Women's Voices."
"This study examines why so few women hold the top leadership positions in theaters and what can be done to increase their numbers. As such, it is a study of positional leadership within the members of a service organization."
JUST A VERY SHORTENED TASTE OF THE RECOMMENDATIONS:  (This Summary is a MUST read)
Recommendations:
What can individual theaters and service organizations do?
Close and focused collaboration between all theater service organizations can advance efforts toward leveling the leadership playing field. LORT and TCG have already developed valuable initiatives that will benefit from further expansion (see TCG's Rising Leaders of Color, based on its SPARK Leadership Program; New Generations; and Leadership and LORT's Diversity Initiative and Recruitment Subcommittee .
Recognize, confront, and correct instances of gender and racial bias.
Open up family responsibilities and work-life balance topics for conversations at all levels
Create opportunities for career development at both early and mid-career junctions.
 Attract young people to careers in theaters.
Offer aspiring leaders training built on the most successful graduate training programs' models
Provide wide training and involvement in fundraising.
Take leadership in publicizing job openings and resources for training systematically, widely, and accessible without a fee.
Develop explicit criteria for vetting leadership candidates.
Collect specific case examples of what types of mentoring have worked
Enter conversations with state and federal government to increase funding for the arts and introduce a jobs program
The ultimate goal of this research was to make recommendations so

that any qualified and ambitious person, regardless of personal

characteristics, has an equal chance at the leadership position.
What can Board search committees do?
For change to occur, search committees (and search firms also) need to commit to supporting, coaching, and advocating for more diverse leadership in a much more informed, intentional way than in the past.
 Support greater diversity in leadership by becoming and staying conscious of common human errors in decision making,
 Search process recommendations:

a. When a vacancy occurs,…
b. Ensure search committee membership is …
c. Conduct a publicly posted, external search…
d. Give serious consideration to the intention behind t…
e. Evaluate a slate of candidates for whom …
f. When interviewing candidates for an artistic director
position,…
g. PAUSE, when you are about to make a selection…
h. Provide support to the theater's leadership team…

 Ongoing Support:

a. A significant factor in any leader's success is ….
b. Take on conditions of employment and salary equity…
c. Provide leaders and aspiring leaders with clear …
What can search firms do?
 When vacancies occur at any level, redouble the efforts to look wide and deep inside and outside of LORT
 Build and present a slate of candidates based on credentials that are race- and gender-blind.
 Become more open to recruiting from outside of the theater world,
 Place a greater value on women theater founders, particularly minority women founders,
 Be cautious during a hiring process about using and relying upon psychometric testing
What can Foundations and other funders do?
 Provide financial support for mentorship opportunities and formal mentorship programs that train the next generation
 Endow positions in larger institutions specifically targeted to mentoring of future female leaders and female and male leaders of color.
 Provide funding to research and implement childcare options for theater staff, including visiting directors.
 Provide support for non-profit theaters to evaluate and implement the wider implications of a theater's mission as a public good to attract more diverse, wider audiences.
 Sponsor retreats for theater Trustees to examine hidden biases that can influence leader selection processes and…
 Sponsor retreats for theater Trustees to examine the business case for diversity…
 Support arts education in K-12 systems to seed the pipeline…
Effective models of conscious efforts toward full representation

are available and can be adapted to a given theater's mission;

some of these efforts focus on diverse programming or inclusion

of diverse populations at all levels of employment, others

focus more on how to change leadership hiring processes by

including a "Rooney-Rule"-type requirement, which generally

refers to having candidates from underrepresented backgrounds

among those who will be interviewed for an open position.
Read the Final-Report (208 pages)  and executive summary (12 pages) and lets work on getting more women, women of color and men of color in leadership roles in Theatre.
-Teresa Thuman,  Sound Theatre Company Executive and Artistic Director